Only a full service auto care center—Quality Tune-Up—can deliver on that promise, time after time, for as long as you choose to own your vehicle.

The Quality difference

The backbone of any automotive service center is the skill and thoughtfulness of its technicians. Quality Tune-Up car care centers have highly trained, technically certified technicians—with years of experience and practical knowledge backing up their skills.

So even if you come in for just an oil change, your vehicle is under the care and watchful eyes of a professional. That makes a huge difference in the long run—and we offer this expertise for a very reasonable price.

Your neighborhood is our neighborhood

Let's face it: finding an honest, affordable, neighborhood car care center is very hard. Because virtually every Quality Tune-Up center is operated daily by its independent owner—an experienced pro who wants to get to know you and your car—you will be treated as a neighbor. 

It may sound corny in this rush-and-go age, but that's the spirit that has taken Quality Tune-Up from a few locations to over forty in the state of California. It's a spirit that has run up millions of trouble-free miles for our customers.

The Quality challenge

Just come in and try us once. You'll see the difference. Tens of thousands of Quality Tune-Up customers took the challenge—and have been coming back ever since. In fact, the vast majority of our customers have been with us for many, many years—some since the very beginning in 1976.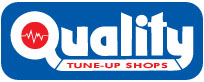 © 2011 Quality Tune-Up Shops 

Auto Care Center Since 1976

ABOUT US

Why come to Quality Tune-Up?

For starters, you get precisely what you want and deserve: quality work, done quickly, for a great price. 

And that adds up to peace of mind. 

Because whether you're driving a car, truck, mini-van or SUV—you want to keep it running in top shape, you want to get the best possible gas mileage, and you want your vehicle to last.