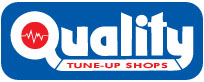 TRANSMISSION SERVICE

Long recognized as a major automotive component that rarely gets the attention it should, the transmission takes the power generated from the engine and transfers that power to the wheels.



•Recommended service intervals: check Preventive Maintenance chart for 


 details.


•Quality replacement fluid is used that meets or exceeds manufacturer's 


 specifications.
© 2011 Quality Tune-Up Shops 

Auto Care Center Since 1976