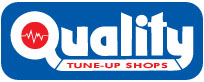 TUNE-UP

Who would have thought that gas prices would skyrocket the way they have? One of the best and easiest ways to increase your miles-per-gallon is with a tune-up. Just think: One spark plug misfiring half of the time can reduce fuel economy by 7% and two can reduce it by 20%. 

When your car, light duty truck or SUV is properly tuned, the ignition system, the emission system and the computer system are all working together. This results in peak combustion chamber efficiency, saving you money at the gas pump—and making sure your vehicle is performing its best while emitting a minimum of pollutants.

And even if you're driving a late-model vehicle, it is a misconception that it doesn't need routine maintenance to make it perform its best. All late-model cars, light trucks, and SUVs require periodic maintenance in order to avoid performance problems such as hard starting, misfiring, surging, hesitation, and stalling.

We recommend your vehicle get a tune-up, or major service, every 30,000 miles. And, this is probably the best preventative maintenance tip a car owner could get. 

Our tune-ups include new spark plugs and points, if equipped. We also check the condenser, rotor and distributor cap if equipped. All tune-ups include labor to install parts and any necessary adjustments. Drivability diagnostics (if necessary) may be extra. (Internal or sealed carburetor adjustments not included.)

© 2011 Quality Tune-Up Shops 

Auto Care Center Since 1976