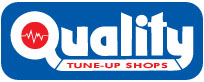 FUEL INJECTION

The fuel injection system allows gas from your gas tank to make its way to the engine.

Servicing the fuel injection system makes sure deposits don't interfere with the flow of fuel.

Recommended service interval*: every two years or 24,000 miles; this is 

          Quality Tune-Up's recommendation for this service. 

Quality chemicals are used that meet or exceed manufacturer's 

          specifications.

*These service intervals are provided by Quality Tune-Up Shops as our general recommendations; check your vehicle's manual for specific manufacturer's maintenance schedules. 

© 2011 Quality Tune-Up Shops 

Auto Care Center Since 1976