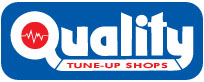 AIR CONDITIONING

If your car or truck's air conditioning isn't working up to par, don't sweat it. In most 

cases, Quality Tune-Up Auto Care Centers can solve the problem.

Your vehicle's air conditioning system is made up of a complex array of components that require periodic inspection to maintain peak efficiency. But the lifeblood of any air conditioning system is the refrigerant, which produces the cooling effect. We recommend servicing your refrigerant at least every two years to assure optimum cooling capacity.

Quality Tune-Up uses a sealed, environmentally friendly process which captures the refrigerant, cleans it, replenishes it and returns it to your vehicle's air conditioning system good as new. Your vehicle's air conditioning system should be inspected each year prior to the warm weather months. 

Please note: air conditioning service is not available at every Quality Tune-Up location.

© 2011 Quality Tune-Up Shops 

Auto Care Center Since 1976