POWER STEERING SERVICE

The power steering system helps to make your steering experience effortless.

Maintain it to make sure the system enables you to control your steering for worry-free driving.



•Recommended service interval: check preventive maintenance chart for 


 details.


•Quality replacement fluid is used that meets or exceeds manufacturer's 


 specifications.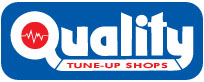 © 2011 Quality Tune-Up Shops 

Auto Care Center Since 1976